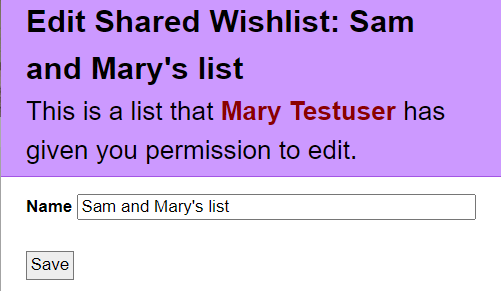 I thought I'd highlight one of the lesser used features that maybe people aren't aware of, but they might benefit from - the ability to allow others to edit one of your wishlists. There are many reasons why you might want to set up a shared online wishlist, such as wedding list if you're getting married or parents who have a wishlist set up for their children.

And it is very simple to set up. Just visit the page for the wishlist you want to share editing with others and click the "Edit List" link to edit it (or the pencil icon next to the wishlist name). You'll see all of your mutual friends with a ticky box next to their name. Just tick the box to select which friend(s) can edit the list and hit that Save button.
The shared list will now appear as one of their lists with a default name, but they can edit that and change the name to whatever they like - the name you have on your copy remains the same though. So your list could be "Mary and Sam's list" and Sam could change their version to be "Sam and Mary's list". And they can add, edit or remove items as if it is one of their own wishlists. They can't however, add their friends to be able to edit the list too or change who can see it.